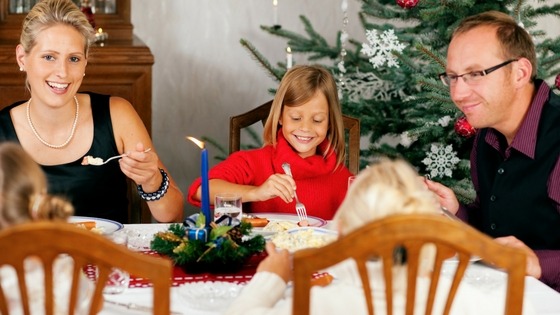 It can be hard not to get caught up in all the Christmas craziness at this time of year and make it all about creating a lot of added stress for yourself. While it can be an exciting time with a new baby or small children, I have seen many new parents stretch themselves financially, physically and emotionally in their attempt to make this Christmas the best yet. Inevitably when you set such high expectations, you find yourself disappointed. Here are my suggestions on how to have a more relaxed and enjoyable Christmas this year.
1. Plan Ahead
If you are hosting a Christmas event, plan ahead. Write your menu well ahead and shop weeks ahead for both gifts, food and drinks. Many dishes can be prepared ahead and frozen, and think simplicity when planning your celebration. Complicated, fussy dishes that require a lot of work on the day, leave you less time spend with your loved ones. Consider paper plates and cups as well if you want to reduce the amount of time spent washing up. Booking caterers or going out to a restaurant are other options that mean less stress for you.
2. Let People Contribute
Christmas is about both giving and receiving. If you have offers from other people to help out, say yes and thank you! Feeling you have to do everything on your own is a recipe for stress, frustration and resentment. Allowing people to contribute makes them feel good and you will have less to do yourself. It's a win-win!
3. Be Budget Conscious
Consider a Kris Kringle instead of buying gifts for everyone or set a limit on how much to spend on gifts. This forces everyone to be more creative and it's a lot more fun. It also teaches children that Christmas isn't just about spending money or creating the expectation that other people must always give them gifts. Extravagant spending over Christmas doesn't make adults or children any happier, in fact being in debt creates more stress for you and your family.
4. Embrace Peace and Gratitude
Sometimes we can get so focussed on what we want and where we want to go, that we forget to be grateful for what we already have. Being grateful that we have a roof over our heads, family, friends, and food to eat when many people don't, can help be more present and feel more peace at Christmas time. After all isn't Christmas all about peace and love?
If Christmas is a stressful time for you and you feel you need more support for your relationship, then it's a good time to call about making an appointment. Christmas is a busy season for counselling, so get in touch early and get the support you need to enjoy the season to its fullest. Let's talk before it breaks.